DEPOSITA'S SOFTWARE SOLUTION IS AT THE FOREFRONT OF THE DIGITISING CASH TREND
"Given the advanced technology era we live in, software solutions play a significant role globally in the cash management and banking sectors," says Deposita's Director of Technology Sid Moodley. "Digitising cash is a buzzword across global banking markets."
Sid – who heads up the teams involved in product and solution development across Deposita's hardware, software and embedded platforms – is discussing the role that software technology plays in cash management. He goes on to explain that technology-based solutions facilitate this digitalisation trend by providing "a real-time availability of funds across multiple payment instruments".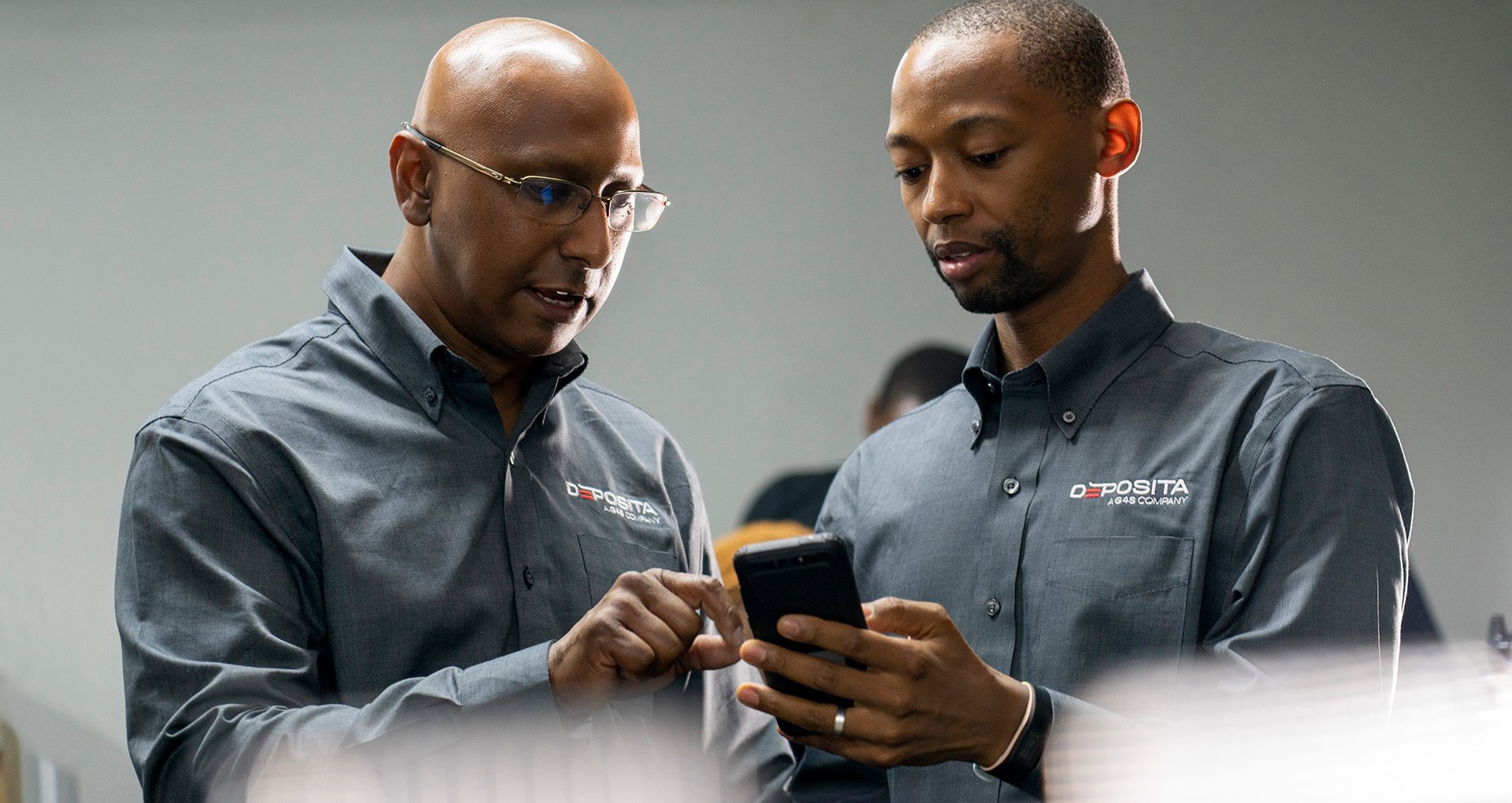 "Technology is fast becoming the core enabler of digital payment transactions."
Below, we dig deeper into the topic, sharing Sid's insights on the current financial software trends and risks; how Deposita's Software as a Service, called Connector, works for businesses to give them complete control over their cash cycle; and what the 27001 ISO certification means for end-users.
Who needs to be concerned about financial software solutions?
Financial software in the form of transaction switching is a critical component of the cash management universe. The ability to securely switch transactions between multiple banking platforms and payment institutions globally is key to providing clients with a best-in-class solution. Back-office financial systems within the cash management space impact all stakeholders at different levels in the value chain, from the banking to retailers on the ground.
Against what threats does financial software guard?
Deposita's systems are designed to integrate critical business rules and logic to process information and transactions based on known and controlled scenarios. A system like ours safeguards businesses and their clients through an automated process, mitigating the risk of human error and any form of malicious activity intended to manipulate any part of that process.
When you say critical business rules and logic, what do you mean by that?
Your utopia would be if everybody did everything by the book, right? So ultimately, we bring the human factor into what we do and, naturally, we introduce the risk of error. Using a system allows you to build the rules that govern how things should work, building the logic that controls how those rules work. And when you pull those two together, you almost get a scenario where you mitigate the risk of making an error because the system controls what and how you do things. So those critical business rules are the governance that you bring in to handle the activity.
What malicious activity do you need protection from?
Malicious activity can come in multiple forms. It can be an opportunistic crime or whenever there's some sort of intent to bypass or break any process for gain or benefit from breaking those rules. So what a system does is – and an automated system can't guarantee that nobody would break or bend the rules for whatever reason – gives you complete visibility.
Our system gives you real-time insight into what's happening in your business. And a big part of that is identifying inconsistency. So what would happen is if you have your rules and logic, 99%, and all things being equal, it allows you to manage exceptions a lot more effectively and efficiently.
What software solution trends are happening in the industry right now?
If you look at those markets, local and abroad, the core focus of what we want to do is develop software solutions that can create more value for the client more securely and within the least amount of time. That's the baseline of Deposita's business. You deposit money into a device, and you want to get access to those funds in the shortest amount of time but most securely. So further to providing electronic value, we see rapid growth in the payment space.
We are providing clients with the ability to use funds across a network of integrated partners.
Ultimately, it's about the ability to design and develop end-to-end cash management, financial system or platform that provides clients with near real-time access to funds and further allows them to disperse those funds conveniently with the least amount of financial and operational impact on that business.
If you have a cash management solution, you can deposit your cash to realise electronic value for it and disburse payments, optimising the efficiency of your businesses.
Is turning hard cash into electronic funds immediate?
It depends on the commercial model in place with the customer. Our solution systems and devices verify and validate the cash once it's gone into the smart-safe and accepted. We then create a transaction that is processed in our system, recording the value of the denomination and a whole host of other critical information linked to the transaction.
The commercial model in place will determine at what point in the cycle does your cash become available. So, in essence, with different commercial models, you can realise value at various points in the process. We currently have approximately 20-plus settlement models that our customers could use.
What do you think the industry's future looks like in light of trends and technologies, and how is Deposita meeting them?
I think Deposita's concept of digitising cash is excellent and a simple way of turning physical cash into digital money. Again, the buzzword across the market is "digitising cash", which is what Deposita does well. It provides a more efficient way to process transactions.
It also provides a far greater reach of transaction processing to occur. Deposita's technologies are leading the current advanced digital era. Our end-to-end solutions are relevant to customers and the different markets that we work in, and the demands of our customers.
What is driving the digitising cash trend?
Physical cash is generally most prominent across the consumer because it's payment at till points; payment for goods and services at the end of receiving them. The effectiveness of that cash for a business is when it becomes a digital component, and you can use it electronically.
So if you look at the different markets, mobile money in certain areas is quite prominent, and I think it still has a lot of potential. You look at cross-border payments. You look at bill payments. It becomes critical to take your cash in and turn it into a digital format so that you can use it to process different transactions. And those kinds of transactions will be things like bill payments, topping up of wallets, payments of suppliers and those kinds of things.
Where does the push towards digitising cash come from? Is it customers, businesses?
Without being specific about what each market is doing, it's from a practical standpoint. You can only do so much with the money sitting in your wallet. The cash you have now on you, you could only use with people in reach. So if you're in a store, you can pay for that good. If you get your vehicle serviced to pay with cash you would need to be there to pay. But if you look at yourself sitting wherever you are right now and could turn your money into a value that sits on the digital platform, you could use that value to pay anybody for anything across any market.
The drive for digitisation comes from its efficiency. But there needs to be a secure way in which you enable money to become digital cash. I think that's a significant part in which Deposita plays a role – and it has a far greater reach in terms of what you want to achieve.
So if you look at businesses, markets, sectors... I could sit here and spend money in China, in the US, in the UK using a value that I've earned in cash that I've turned into a digital component. And then, I can now do electronic transfers, buy tokens and those kinds of things, and use that as a payment instrument for a good or service that I want to get from anywhere.
Suppose if you look at more informal sectors where cash is more prevalent because trading happens with money, you see people converting their money into wallet solutions. The wallet solutions are integrated with several other network partners and suppliers. You don't have to now go to a hardware store that's extremely far away. You can go to a local place, you can pay money to a store, convert that into digital currency in your wallet, and you can use that wallet to pay for goods and services.
Deposita's solution takes that same idea to different types of markets and sectors, where you digitalise cash and extend the reach in which you want to spend and use that money.
In terms of Deposita's solutions, tell us more about Connector.
Connector is our core back-office environment that ultimately enables the switching and processing of information and transactions. It's an end-to-end cash processing software solution that automates counting cash to inventory management. The solution itself has been developed over several years. It's constantly evolving based on market demand, new products and staying relevant to the advancing technology and other factors.
Connector is the centre of what we do as part of our solution. It has a host of subsidiary components that provide control and visibility across the end-to-end cash management cycle. These components include transaction switching, cash processing, track and trace, device monitoring and diagnostics, sales management and the client portal.

We looked at all the different touchpoints in the cash management solution, not just a user processing a transaction on a device:
We extended into the logistical component of cash processing, which is track and trace. We can track commodities from point A to point B. And that item doesn't necessarily need to be cash. It can be a container or an envelope. It's something that we can collect and deliver. We do this through our mobile software solution running on mobile handheld devices.
Our device monitoring and diagnostics is a tool to monitor the states of devices we have across different markets. So a lot of monitoring goes into making sure we've got devices running at an optimal level. It performs high-level diagnostics, checking for inconsistencies with devices to remotely see what's going on and dispatch a technician if needed.
Sales management is a tool that runs the pipeline of customer conversion and tracks the whole process. It brings all the relevant governance to produce all the documentation and keeps track of the entire sales component.
And the client portal is the face of Connector. We've spent ample time on the client portal, enhancing it to give customers what they need based on several years of listening to what customers want. And including essential information and components that enable the customer the visibility they need and make the necessary decisions based on what they see.
How does Connector benefit your customers' customers?
If you look at Connector as a whole, it's a vital component of the solution that the client doesn't see. It provides clients with the optimisation and flexibility they require in their cash management process. Connector has many configurations that tailor solutions to the client, including settlements, vendor management, cash-in-transit, and more. It provides the client with control and visibility across the entire value chain.
Who are the different stakeholders in the cash value chain Connector is designed for?
If you look at the stakeholders in the cash management chain, it would be the retailer, the business that has the device. Then you've got Deposita, managing cash getting into the device, the transactions, but, after the container is removed from the device, you have the cash-in-transit company that does the logistics component. You have the cash processing centre that does the counting of the cash. You have the reconciliation teams that do the verification of money counted versus collected. You have the banking partners that provide the credit into different bank accounts. Our solution gives you an overview of all those different touchpoints.
How are Deposita's comprehensive solutions tailored?
Our solution covers the entire spectrum of the whole cash management and banking solution. And it's tailored to suit the needs of multiple markets. Connector currently provides solutions across multiple countries within the banking and cash processing space. It's constantly evolving. We look at what we learned from different markets and evolve the software to cater to other functions, features and activities.
If you look at the sectors – banking, payments, Cash360, cash-in-transit services – they all function on the same or similar principles. But the execution can differ between various entities, markets, countries and so forth. We've accommodated that based on our ability to configure our solutions.
How simple is Connector to use?
An essential part for the customer is the client portal. The rest of it is mainly internal and other external stakeholders. We considered a lot of user experience and looked at how we could make it as functional as possible. The portal is highly user-friendly, with simple navigation built-in to the solution for ease of use.
It offers multiple functions, including, but not limited to, a business intelligence studio for customised reporting that the customer can do themselves, management information, dashboards with real-time visibility of the business's cash position.
When you log into the portal on the landing page, all your information is immediately in front of you, including CIT service requests, your user and device management.
Is the cash management solution easy to incorporate into your business with existing service providers?
From a user perspective, it's extremely easy to onboard into your business. Our solution comes with a lot of value on what you do and what you need. We've given a lot of thought to how we approach certain things within the system in terms of reporting, which is key to clients and giving them the ability to get their reports and data out.
From an integration perspective, we're very flexible. We have multiple integrations globally into multiple clients, third parties, payment solutions, and banks. We conform to all the necessary standards. We offer our integration APIs if you would want to integrate with us. We do what we need to do to facilitate the process and simplify the integration journey.
How secure is Connector?
Cybersecurity is a massive concern globally. And Deposita has taken the necessary steps to ensure the safety and security of our environments. We have dedicated local and global teams that focus on cybersecurity, ensuring that all our solutions are continually assessed and reviewed for potential enhancements based on the ever-evolving cyber world.
As we move into a digital cash space, the more risk you start to expose yourself to. We must have the right tools in place to manage the proper security levels.
Deposita's infrastructure is also hosted on a private cloud and managed by our global team, taking a firm stance on cybersecurity. Added to that, Deposita is currently information systems security 27001 ISO certified, and has been for the past three years.
Can you explain what that ISO certification means and how it translates into value for your end user?
ISO compliance is a globally accepted set of rules put together to make sure you are as secure as you can be. These rules are guidelines, and as a business, if you create information systems, you need to align to the standards. And those are system rules, operational rules, physical security rules. It's quite an extensive and lengthy exercise. But if you are compliant with those rules, you will receive an ISO certification, and that's where Deposita is currently.
For information about cash management and the industry, sign up for our newsletter and get the latest industry and Deposita news from the experts every month.